Program Overview
This program provides innovative learning opportunities through meaningful, child-led play.  Each series fosters essential life skills, inspires creativity, facilitates connection, and integrates advanced cognitive & social emotional skills.  Most importantly, children will create lasting memories for years to come! Programs may vary based on location.
---
Program Details:
GIFT CERTIFICATE – Casual Visit
Gift with IMPACT.
The priceless gift of unstructured nature play…
"Children will not remember their best day of television." – Unknown 
So, why not foster the benefits of being outdoors for your WILD ONE by purchasing the gift of experience and nature immersion over material things.
It will be time spent, that a WILD ONE will never forget. 
A gift that will not end up in landfill and is sustainable. An e-voucher certificate will be sent to your email address within 1-2 business days. 
Certificates are valid for 1 year from date of issue and are non-refundable.
THIS GIFT IS FOR x1 CASUAL VISIT TO A "NATURE KINDY" SESSION
Wild Ones is a 6 hour drop off program for children aged 3-12 years who are independently toileting. This program provides an opportunity for children to mix with and learn alongside peers of different ages.
Transferable for credit or other program of same or lesser value.
TimberNook Southern Sydney
Wild Ones – TimberNook Southern Sydney
-
Times: -
Ages: 3 - 12
---
1st Appin Scouts, Burke Street, Appin NSW 2560
---
Instructor: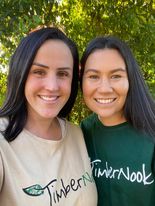 Southern Sydney TimberNook
---
Capacity: 100 (99 spots left)
Not the right program?
Select A Different Program