Program Overview
These program series offer learning through meaningful play experiences. Children will do everything from create giant ball runs in the woods to designing adventure courses through the mud. Each program offers unique and memorable play opportunities that challenge creativity, social emotional development, problem solving, social skills, and the senses at the same time! Programs may vary based on location.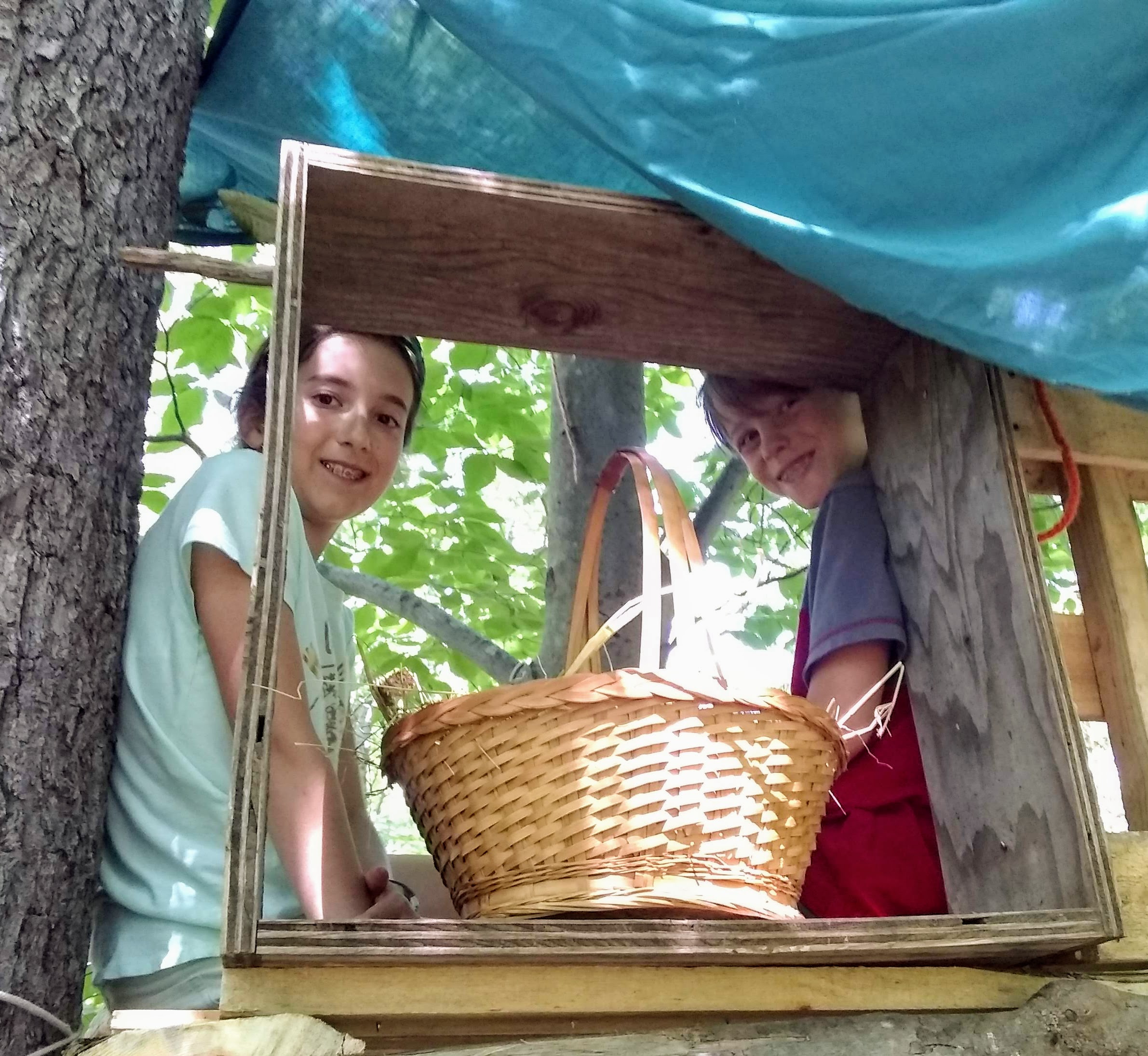 ---
Program Details:
Wild Ones – Year round program for kids age 7-12
Deposit for fall program.
**Update 8/31 Wild Ones on Weds is full. We are now offering a second class on Thursdays and have a couple spaces left. Please email for more information at elizabeth.wilkins@timbernook.com
Ages: 7-12 yrs (with some flexibility)
Date/Time: Wednesdays from 9:00 – 3:00
Location: 77 Lovers Lane Gorham, ME 04038
Wild Ones is an outdoor, nature-based enrichment program for school-age children. Children join us weekly to engage and develop creative thinking, social intelligence, and complex problem solving through experiences in the wild. There will be plenty of time to explore and learn about the natural world around them, design, create, play, and cook over open fire. They will challenge themselves in new ways, making lasting memories in the process.
Our site offers opportunities for individual and group play amidst a beautiful wooded area equipped with rope swings, materials for building and plenty of room to run. We make every effort to accommodate any child who wishes to attend our program.
This program runs in 6-week sessions.
TimberNook is a 100% outdoor program and we love to play in the rain (emergency shelter available for lightning). Weather appropriate attire for rain and snow is required and essential. We can offer suggestions for good quality rain gear. We ask that each child is equipped with insulated rain boots.
A change of clothes, an extra pair of close toed shoes and towel recommended. Please expect kids to come home dirty!
Children will need a snack and bagged lunch each day and refillable water bottle.
Staff is first aid/CPR trained and background checked.
This is a drop-off program. Drop off begins 5 minutes before 9:00 and all children should be picked up promptly at 3:00.
COVID-19 Related Policies:
There will be a pre-screening procedure that includes keeping a record of temperatures and possible COVID exposure for the two weeks prior to program and every morning upon arrival at camp.  Anyone with any sign of illness will be asked to stay home.
Handwashing will occur upon arrival, before eating times, after using the bathroom and before leaving. We will spend time on coaching proper handwashing techniques.
Children will not be required to wear masks, but will need to have one with them and will be supported if they choose to wear it.
Staff will wear masks when interacting with parents or in close proximity to children.
Meal times and circle time will be modified to give children more space.
High touch areas will be disinfected in a way that minimizes kids exposure to the chemical used for cleaning.
Children who show signs of illness during camp will be required to be picked up. All families will be notified and updated.
 Our refund policy will be modified for any cancellations pertaining to the pandemic.  Families can receive a full credit for future programs or can request a refund (minus 10% for administrative costs).
Dates: 
Session 1:  Sept 9 – Oct 14 2020
Session 2:  Oct 28 – Dec 9 2020
Session 3:  Jan 6  – Feb  10 2021
Session 4:  Feb 24 – Mar 31 2021
Session 5:  Apr 7 – May 19 2021
Pricing:
Payment Option 1 (per 6-week  session): $299
Payment Option 2 (Payment for two 6-week sessions) 10% discount or savings of $60: $540
Payment Option 3 (Payment for full year Sept – May) 20% discount or savings of $300: $1200
10% sibling discount available – please inquire.
Refund policy:
Should program cancel due to stay-at-home orders or other COVID 19 related reasons,  fees can be used as a credit towards future programming or will be refunded (minus a 10% processing fee). Parent cancellation due to non-COVID 19 reasons will follow our regular refund rules – the fee can be used as a credit toward future programming or will be refunded (minus a $50 nonrefundable deposit).
Save your spot with a $50 deposit! When program fills, please send an email to be put on our waiting list!
Please contact Beth with any questions:
cell # 561-315-6641
email: elizabeth.wilkins@timbernook.com
TimberNook of Greater Portland, Maine
Wild Ones – Fall 2020 – TimberNook of Greater Portland, Maine
Sep 9 - May 20
Times: 9:00 am - 3:00 pm
Ages: 7 - 12
---
77 Lovers Lane Gorham, ME 04038
---
Instructor:
Elizabeth Wilkins
Not the right program?
Select A Different Program