Program Overview
Tiny Ones is designed for the smallest of our TimberNook adventurers.  You and your child will venture outdoors for creative play opportunities that foster healthy child development. You'll also receive weekly ideas on how to inspire independent play at home. Programs may vary based on location.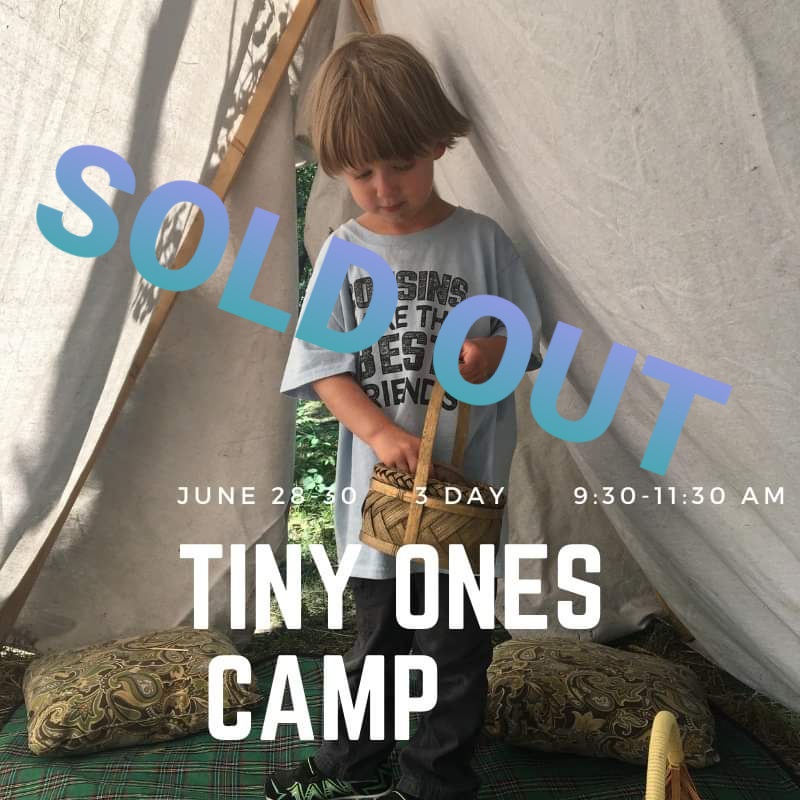 ---
Program Details:
TimberNook Saskatoon Summer Camp for Toddlers and Preschoolers
Registration now open for the Summer Season!
TimberNook Saskatoon Summer Camp for Toddlers and Preschoolers is a great way to connect with your family in nature. Children ages 1 to 4 will delight in living out a new magical story every day in the woods of TimberNook Saskatoon with their caregiver.  Kick off your summer with this Tiny Ones program.
Camp Dates: Monday, June  28, Tuesday June 29 and Wednesday June 30
Times: 9:30 am to 11:30 am
Cost: $90
Ages: Walking to 5 with a caregiver
Location: TimberNook Saskatoon
https://goo.gl/maps/F5y62tPWijUh1Gzr6
Program Details:
Tiny Ones is a caregiver and a child program, hence it is a true family program.  This program introduces our littlest TimberNook players to the joys of experiential outdoor play in the meantime caregivers can connect.
Arrival begins at 9:25 am.
This program is 100% outdoor nature program. Weather appropriate attire is required.
Babes in arms are invited to attend at no cost.
The specifics about this program will be emailed one week prior to the start date.
Nightly emails with beautiful photos containing a summary of each day are included.
Above all, your children will build lifelong memories at TimberNook Saskatoon Summer camps playing the TimberNook way!
This age group won't work for your family? Check out our other camps!
https://www.timbernook.com/provider/timbernook-saskatoon/
Refund policy
TimberNook Saskatoon refund camps  canceled due to COVID restrictions, less 10%. However, there are no refunds for missing days due to illness or poor weather.
For summer and seasonal camps, you will be charged the full camp tuition amount upon checkout. There is a $50 non-refundable deposit for any summer or seasonal camp cancellation. Summer and seasonal camp cancellations received at least 4 weeks prior to the start of your camp will receive a full refund MINUS the $50 deposit. All other cancellations are ineligible for a refund. There will be no refunds for cancellations due to acts of God (including weather related cancellations), natural disasters, or epidemics. We recognize that such events are unlikely to occur; but if one does, we will issue credit vouchers for the full amount paid for the affected program.
COVID-19 Considerations
STAY HOME if you or your child are sick or have symptoms or in the "high risk" category
Families must follow all Saskatchewan Health Authority guidelines regarding quarantining
Staff will perform a health screening upon entry
Caregivers and children will  hand sanitize at start of program
Increased cleaning and disinfecting of frequently touched surfaces.
We follow health and safety protocol.
Social distancing is encouraged through increasing spacing, small groups, & limiting mixing of groups.
TimberNook Saskatoon and their staff are not able to guarantee an environment free of COVID-19
All actions listed above are recommendations by the Saskatchewan Health Authority and TimberNook Headquarters. In conclusion, considerations are subject to change based on new information. As a result, additional restrictions could apply.
TimberNook Saskatoon
Tiny Ones Summer Camp- TimberNook Saskatoon
Jun 28 - Jun 30
Times: 9:30 am - 11:30 am
Ages: 1.5 - 5
---
6 Bergheim Road, RM of Aberdeen
---
Instructor:
Shelley Bettker
Not the right program?
Select A Different Program