Program Overview
Our popular forest program engages children in outdoor play and learning during fall, winter, and spring months. Children will enjoy bringing stories to life, diving deep into their imaginations, engineering grand-scale play experiences, and so much more. Forest programming has never been more fun! Programs may vary based on location.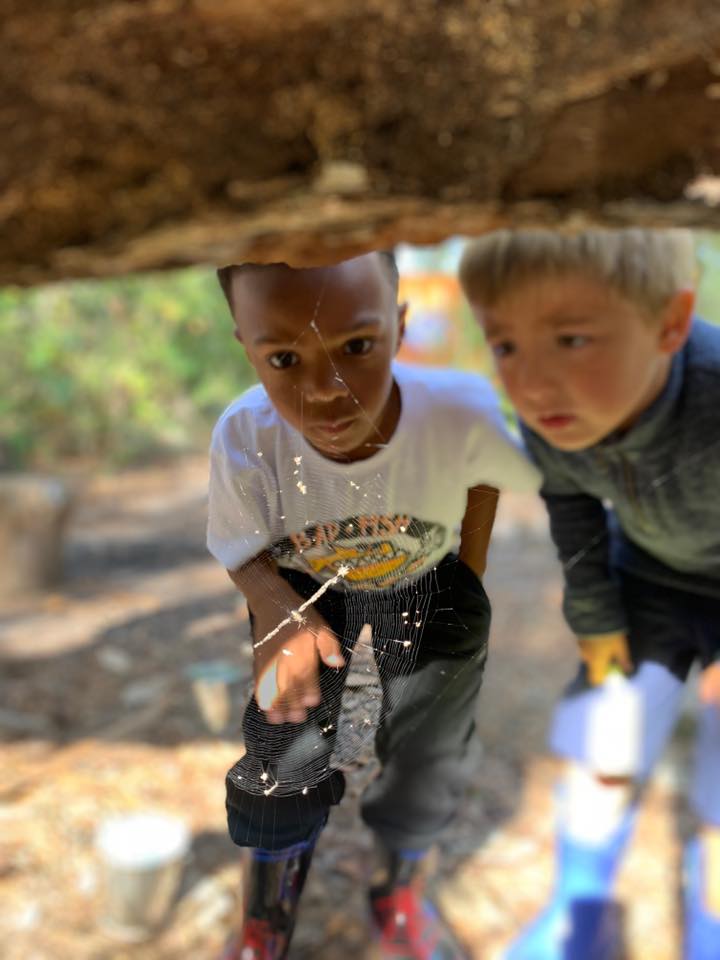 ---
Program Details:
Little Wild Ones December -Mondays and Wednesdays
This THREE WEEK program, offered by TimberNook Saskatoon, is designed as an outdoor enrichment program for children 4 to 8 years of age.  This session will meet TWO day a week on Mondays and Wednesday. The hours are 9:00 am to 3:00 pm
Hours: 9:00 am-3:00 pm
Cost: $270 per child/ 6 sessions
Eligibility: Students must be 4 by November 30, 2020 and be fully potty trained. Up to 8 years of age.
Program Dates:
Monday November 30 and Wednesday December 2
Monday December 7 and Wednesday December 9
Monday Dec 14 and Wednesday December 16
Break for Christmas
Your child will have the opportunity to build, climb, run, cook, create, and imagine, in a beautiful spot with other children- the perfect day!
 Ages are a suggestion.  Please contact us if your child falls outside this age range.
TimberNook is a 100% outdoor nature program and we love to play in all weather. Weather appropriate attire is required.
A change of clothes, an extra pair of close-toed shoes and towel recommended.  Expect kids to come home dirty!
Children will need a full lunch with several snacks and a full refillable water bottle.
This is a drop-off program. Drop off begins at 8:50 am and all children should be picked up at 3:00 pm.
TimberNook programs maintain a 8:1 child to adult ratio.
Siblings get a 10% discount off each child enrolled. (Please email Shelley at shelley.bettker@timbernook.com PRIOR to registering if you would like a sibling discount.)
What will a full day Explorers TimberNook look like at TimberNook Saskatoon location?
Parents will drive children 15 min east of Saskatoon to TimberNook Saskatoon location.
9:00 Children can arrive any time after 9 am
9:30 Morning meeting where topic of the day is highlighted along with a story and activity.
10:00 to 12:00 Children will then have an opportunity for deep meaningful play and learning.
12:00 to 12:30 We will then have lunch as a group.
12:30 to 1:00 Reflection time- quiet time to read book under a tree or draw in journals.
1:00 to 2:30 Afternoon meeting with a new invitation set out for the children to discover.
3:00 Dismissal and parent pick up.
COVID-19 Considerations
STAY HOME if you or your child are sick or in the "high risk" category.
 If your child has been exposed to someone with COVID-19, please keep them quarantined at home for two weeks before sending them to TimberNook.
At drop off staff will perform a health screening upon entry.
Children use hand sanitizer at drop-off.
Children will frequently wash hands using the outdoor hands-free wash station
Frequently touched surfaces will be cleaned and disinfected during the lunch break and at the end of the day.
The maximum number of children is 8
All employees will be trained on health and safety protocol.
Social distancing is encouraged through increased spacing, small groups, limited mixing of groups, and individual drop-offs.
TimberNook Saskatoon and their staff are not able to guarantee an environment free of COVID-19.
All actions listed above are recommendations by Government of Saskatchewan and the Saskatchewan Health Authority and TimberNook Headquarters. Considerations are subject to change based on new information. Additional restrictions could apply.
Explorers Preschool
Little Wild Ones Mon/Wed December Session
Nov 30 - Dec 16
Times: 9:00 am - 3:00 pm
Ages: 4 - 8
---
# 6 Bergheim Road, RM of Aberdeen
---
Instructor:
---
Capacity: 6 (0 spots left)
$270.00 per child
We are sorry but this program is full. Please contact the provider to be put on the waitlist.
Not the right program?
Select A Different Program