Program Overview
Our popular forest program engages children in outdoor play and learning during fall, winter, and spring months. Children will enjoy bringing stories to life, diving deep into their imaginations, engineering grand-scale play experiences, and so much more. Forest programming has never been more fun! Programs may vary based on location.
---
Program Details:
GIFT CERTIFICATE – Casual Visit
Gift with IMPACT.
The priceless gift of unstructured nature play…
"Children will not remember their best day of television." – Unknown 
So, why not foster the benefits of being outdoors for your WILD ONE by purchasing the gift of experience and nature immersion over material things.
It will be time spent, that a WILD ONE will never forget. 
A gift that will not end up in landfill and is sustainable. An e-voucher certificate will be sent to your email address within 1-2 business days. 
Certificates are valid for 1 year from date of issue and are non-refundable.
THIS GIFT IS FOR x1 CASUAL VISIT TO A "LITTLE WILD ONES" SESSION
Little Wild Ones is a 3 hour drop off program for 3-9 year olds who are independently toileting. This is the perfect transition program for children wanting some time to be independent in the bush but not quite ready for our 6 hour programs.
Transferable for credit or other program of same or lesser value.
TimberNook Southern Sydney
Little Wild Ones – TimberNook Southern Sydney
-
Times: -
Ages: 3 - 9
---
1st Appin Scouts, Burke Street, Appin NSW 2560
---
Instructor: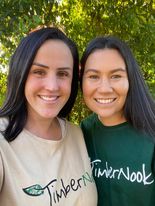 Southern Sydney TimberNook
Not the right program?
Select A Different Program