Program Overview
During this program, your child will bring a stuffed animal from home to share in their outdoor play adventures. Children will have the opportunity to create handcrafted items for their special stuffed friend and bring them along for imaginative, sensational journeys.  This week will inspire hours of creative play! Programs may vary based on location.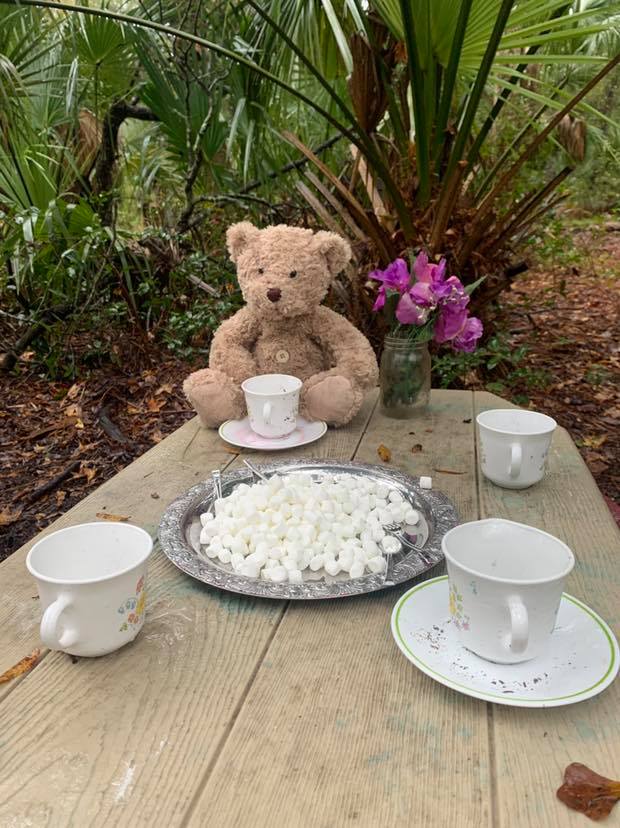 ---
Program Details:
During this 5 week program children can bring a cuddly friend from home to help bring this grand woodland adventure to life! Each week comes with the opportunity for a new experience such as, creating homes, clothing, and food for their "fuzzy friend", mud adventures and bubble baths, creating a clothing store and playing dress up, or going on a wild ride like in the story 'Bear in the Air' that ends with a big splash! (We will have extra stuffed animals just in case a kiddo prefers their special friend from home doesn't get wet or dirty) There will also be plenty of time for group games, free play, and cooking over an open fire!
This program runs on WEDNESDAY'S for 5 consecutive weeks. The cost of this program is $245 per child and is taken at the time of registration to hold your spot. Details will be sent via email on what to expect/bring to this popular forest program.
COVID PROCEDURE/POLICY
* Due to the nature and environment of our program masks are not required. However, we do suggest each  family does what makes them feel comfortable. If you prefer your child wears a mask that's totally fine too!
* A list of COVID symptoms will be emailed to you prior to your child's first day. Please review this list daily. If you your child is experiencing one or more of the listed symptoms they must remain at home until they have been symptom free (without the aid of medication) for 24 hours.
* If your child, or someone in the home, should come in contact with a person who has COVID your child must remain home for 10 days or show a negative COVID test.
* If your child, or someone in the home, contracts COVID please let us know as soon as possible so we can take whatever next steps are necessary.
Thank you in advance for your patience and understanding!
*This program is non-refundable. In the event we need to close due to unforeseen circumstances you will be issued a credit for a future program of equal value.* 
TimberNook Moose Mountain Region
Friends in the Wild – TimberNook Moose Mountain Region
Jul 7 - Aug 4
Times: 9:00 am - 1:00 pm
Ages: 4 - 8
---
400 RT 153, Middleton, NH, 03887
---
Instructor:
Amber Baud
Donna Johnson
Kelly Rand
Not the right program?
Select A Different Program