A Deeper Look
We have observed significant improvements in children's balance, emotional regulation, strength, social skills, play schemes, and creativity—even over the course of just one week. We strive to provide evidence-based research to reinforce our TimberNook philosophies and the benefits of outdoor play.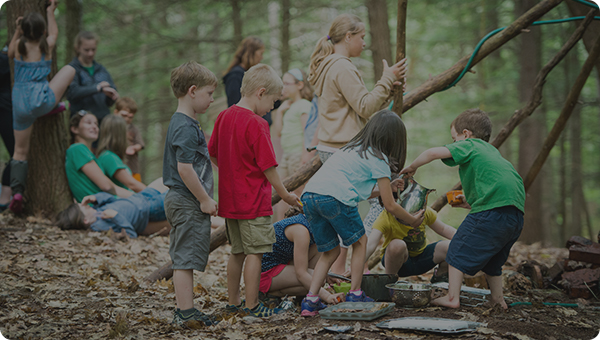 What We Believe
Our core beliefs drive the experiences we provide for children through TimberNook programming, and research supports many of our beliefs about the positive effects of authentic outdoor play on children.
Our Beliefs:
Outdoor play

is inherently therapeutic

Children require time and space to move their bodies

Nature provides the ultimate

sensory experience

Children deserve distance from the adult world regularly

Ample outdoor play benefits children physically, mentally and emotionally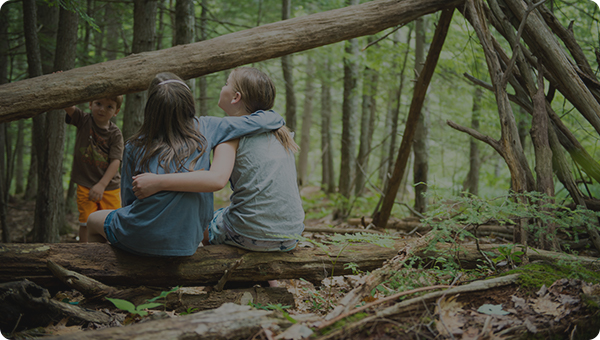 What We Look For
Our research seeks to look more closely at the influence of the play environment in children's overall development. Analyses of social interactions, cognitive and behavioral patterns, and physical and mental skill development help us better understand the benefits of TimberNook's sensory immersion and outdoor play approach versus traditional play environments.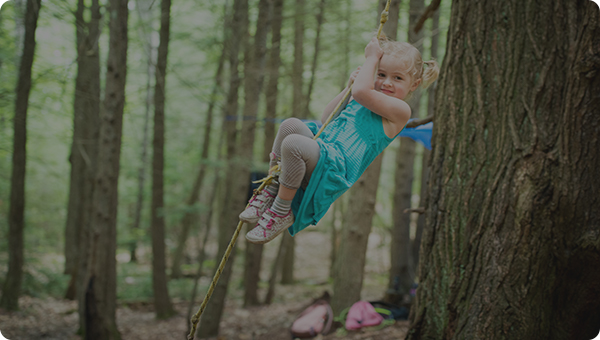 What We've Found
Our research indicates that the nature-based setting of TimberNook holds valuable benefits for children above and beyond traditional play environments like a backyard  or a playground. These movement-based programs provide an opportunity for social engagement and child-directed play in a natural environment. When children are afforded ample time and space, the quality of play and overall benefit greatly increases.

UNH Occupational Therapy
Summer 2016 Research Study
"The results suggest that the quality of social interaction among the children did collectively differ between TimberNook and the children's typical play environment. The environments were specifically different in their supportiveness regarding the objects available, the amount of space and configuration of that space, and sensory opportunities. We concluded that environments offering greater opportunities for object, space, and sensory exploration, such as TimberNook, appear to support better quality of social interaction. "
Download the Abstract
"Thank you so much. My son has just thrived with his 'out in the wild' experience with you. He so thoroughly enjoyed it. He has a sparkle in his eyes and has not stopped smiling. He has all this new knowledge of what he can do by himself and seems to have a new confidence with it. So thank you so much!"
"Being able to witness my clients' growth during TimberNook has been one of the greatest joys since joining the team at Mandala. The last TimberNook session I attended with my client literally left me in tears. I watched him independently engage in skills I have tried prompting him to use or didn't even know he had. I watched from behind a tree as he carefully examined obstacles in front of him and problem solve how to complete the task. His requesting and responding to peers were skills I have been working on for months and very rarely witnessed him using… until in TimberNook. What a beautiful blessing this program has been!"
"You need to have a solid base or foundation prior to focusing on a child's informative lessons. Without emotional regulation, higher-level thinking, and social skills, a child will struggle when approached with the informative approach."
"As an occupational therapist, there is no way to get around the fact that the environment has an incredible influence on people. It can invite or it can inhibit. It can provide opportunity, or it can thwart movement. Whether it is the loose parts we put out, the physical aspects of the TimberNook site, the freedom they are given, or the children present, their surroundings and context play a huge role in what kind of experience they will have at TimberNook."
"We were very impressed with what you offered at TimberNook. It was great to see the children's confidence grow throughout the morning, exploring and searching for hidden 'treasures' to contribute to the huts. The natural environment and how it inspired children's imaginative ideas was extra special."
Our Programs
Our programs allow children to explore, create, take risks, and dive into their imagination.
View Our Programs